When travelling around the world you come across some amazing coffee places, and some not so great. If you're like me, coffee is a necessity in the morning, I'm not saying I have an addiction… but if you want a response from me before 11AM, a black coffee is all I ask for. So, what I have done below is put together a handful of my favourites, in no particular order.
Satan's Coffee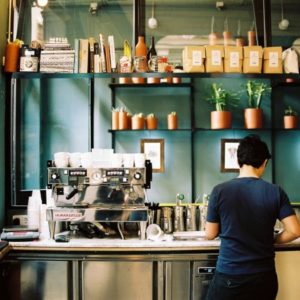 Satan's relaxed, and cool vibe makes that coffee taste just a little better during that hustle and bustle of your busy morning. When they opened in 2012, their no WIFI, no decaf, and no kids corner rules gave the place its own vibe that is perfect for the true coffee admirer. If the coffee isn't enough, try their grilled sandwiches, and/or sweet treats. Enjoy your perfect blend, listen to the perfect background tunes, and escape from the busy day for a few moments.
Find them at their two locations: Carrer de l'Arc de Sant Roman del Call, 11, and Gran Via, 700.
Hours: Gran Via location: – Everyday from 7AM-6PM, Sant Roman location: Monday 8AM-6PM, Tuesday Closed, Wednesday-Saturday 8AM-6PM, Sunday 10AM-6PM.
Bristol
It's hard to think of Bristol Cafe as just a coffee spot for me, as the sweets, and food are indescribably tasty. But, it's defiantly one of my favourites for grabbing a quick coffee on the run to work. Of course they have mouth watering pastries at the cash to make it impossible to just get the coffee on its own. Make sure you try the croissant in the morning with your on the go coffee.
Find them at: Carrer de Roger de Flor, 220
www.bristolcafebcn.com/
Hours: Monday- Friday 8:30AM-9PM, Saturday 10AM-7PM, Sunday 10AM-5PM
Cosmo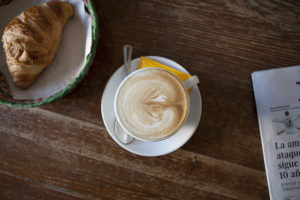 Cosmo cafe is not my morning stop, its more of my late afternoon, early evening, catch up with a friend coffee (my favourite kind of coffee). The specialty blend of the NØMAD coffee is delicious, so be sure to try it while you hangout in an art gallery of a cafe. If the coffee isn't enough try one of the sweets which is guaranteed fresh and local as they follow the 100km radius rule.
Find them at: Enric Granados, 3
www.galeriacosmo.com
Hours: Monday-Sunday 10AM-10PMDela Cream
Salterio
Ever had a friend take you to a cafe and you can't decide to either love them hate them for giving you yet another place to add to your list of favourites. Well I have decided to love my friend for this spot. Salterio is the perfect hole in the wall in the Gotico neighborhood for afternoon Turkish coffee, and of course baklava.
Find them hidden at: St. Domènec del Call 4
Hours: Monday-Thursday 10AM-12AM, Friday 10AM-1AM, Saturday 1PM-1AM, Sunday 1PM-12AM